Wonders of Amalfi October 3-9th 2022
Join us for 7 memorable days along Italy's stunning Amalfi Coast!
Experience Italian living at its best! Our local guide will share all of the amazing gems this gorgeous region has to offer. Visit clifftop towns, taste the local wine, join a cooking class, visit the island of Capri, hike along the rugged coast, and enjoy local authentic Italian cuisine.
A custom, small group adventure by Niche Travel Group
October 3rd – 9th 2022
Day 1 -October 3rd – Naples -Pompeii
The journey begins in Naples where we will be met at the train station by our Tour leader and guide Daniel. From the train station we will head to Pompeii; a city buried in time by the sudden eruption of Mt Vesuvius in 79AD. View a glimpse of what life was like in the 1st Century. Afterwards we will continue to the coast and check into our Home for the next 6 nights, the Hotel le Rocce, nestled high on the hills overlooking the Mediterranean Sea.We will join a local cooking class and enjoy our first dinner together
Meals included: Dinner at a local Agriturismo
Day 2 – October 4th- Positano, Praiano and Amalfi by boat
Today we will visit two iconic villages of the region, Positano and Praia Beach.In the morning we'll transfer to Positano, we'll leisurely walk down to the beach while exploring this iconic city. From the beach we will take a private boat to Marina di Praia Beach to enjoy lunch at a family restaurant and then free time for swimming and relaxing on the beach. Afterwards, we'll hop on a private boat to view the amazing Amalfi coastline.
Meals included: Breakfast, Lunch and Dinner at a local Agriturismo
Day 3 – October 5th – Pizza and Ice Cream, plus Sunset at the Walk of the Gods
Today we will have a short transfer to Agerola Bomerano Village, famous for the Fior di Latte (Mozzarella made with cows milk). This is considered one of the best quality mozzarellas in the World as the milk comes from the free range cows that live in the mountains of the National Park Montei Latteri.We'll take a short walk around the village, where you'll have an opportunity to participate in an optional ceramic painting class with a local artist. This will also be a great opportunity to purchase local liquors such as Limoncello.
For lunch we'll visit a family-run Pizzeria; one of the best in the area. They will open just for us and will demonstrate how the Neapolitan Pizza is made. All the ingredients come directly from their farm. They even make their own red wine. Afterwards, we'll return to the village for homemade gelato!
The afternoon is free to relax by the hotel pool. Late afternoon, we'll transfer to out starting point for the Walk of the Gods. This 2km walk will provide you with one-of-a-kind views of the Amalfi Coast with incredible photo opportunities. Once we reach our destination, that of a local farm, we'll enjoy a unique Sunset Dinner el fresco made with all organic products.
Meals included: Breakfast, Lunch and Sunset Dinner
Day 4 – October 6th – The Island of Capri
The Island of Capri is one of the most picturesque and visited locations in the Campania Region. Full of natural beauty and history and famous since ancient times. This is where Odysseus narrowly escaped the sirens in The Odyssey. Included today is an early ferry ride to enjoy a full day of touring this beautiful Island. We'll visit Capri Square, the Tragera Hotel with its stunning views of the Faraglioni Rocks, and take a Funicular to Anacapri. There'll be free time to enjoy the island before we return to the Mainland.Meals included: Breakfast, Lunch and Dinner at a local Agriturismo
Day 5 – October 7th – Ravello and Amalfi
In the morning we'll transfer to the medieval city of Ravello, which is located at the top of the hill over the Gulf of Salerno. We'll have free time to walk around the historic buildings, villas and visit the Duomo. The beautiful region is famous for many agricultural products and we'll visit a local Lemon Farm.The bustle of the Amalfi Coast is only a few miles away as the crow flies but we have chance to savour the more peaceful surroundings with a beautiful walk down to Amalfi. Take in stunning views throughout our hike through the "Valley of the Mills" along a path towards the beautiful *Valle Delle Ferrere National Park, finishing in the city of Amalfi. Here we'll have free time to walk around the capital of the ancient Republic Marinara, discover the magnificent Duomo Saint Andrea and try the famous delizia al limone cake. *Please note, there are many steep steps on some of the trails*
Meals included: Breakfast, Lunch and Dinner at a local Agriturismo
Day 6 – October 8th – Paestrum
After breakfast we'll transfer to the Village of Cicerale to a beautiful Agroturismo in the Cilento National Park. Here, we'll enjoy a lunch with Giovanna Voria, who is considered the Ambassador of the Mediterranean diet. She will explain the benefits of eating well and will prepare an amazing all organic lunch.On the way back, we'll stop in Paestrum to see the Greek temples, visit a Mozzarella Farm to see the animals and to taste their products.
After returning to the hotel, we'll enjoy our final supper at a local Agriturismo.
Meals included: Breakfast, Lunch and Dinner
Day 7 – October 9th – Departure Day
After breakfast we say goodbye to our hosts. We will pack up and transfer to the Naples Train Station or airport for our journey home or our next adventure.Meals included: Breakfast
**Please note, this is an active itinerary. The Amalfi coast has rugged terrain with high and low elevations. There are many steep steps on most of the trails in this region, including on many of the paths we take on this tour.  You will be rewarded with stunning views throughout but a moderate fitness level is required.
Hiking boots are recommended as well as collapsible trekking poles (poles can be rented locally).
Speak to your Niche agent to see if this trip is right for you**.
Wonders of Amalfi 2022 by Niche Travel Group
October 3rd – 9th 2022Tour begins and ends in Naples (pre and post arrangements available)
Price per person $2300 land only ($500 for single room supplement)
Meals included : 6 breakfast, 5 lunches and 6 dinners.
Deposit is $500 per person (non refundable)
Balance due 20th June 2022
Meet Your Niche Travel Group Hosts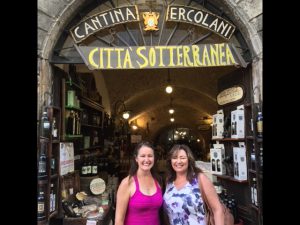 The tour will be hosted by Karen Marquis and Amanda McMullin, both Italy Specialists. They have travelled many times to this beautiful country.Prior to this tour they will be hosting Taste of Tuscany from 26th September – 2nd October. Why not make this a holiday of a lifetime and combine these two very contrasting regions of Italy.
Amanda McMullin
902 829 -3876
Karen Marquis
902 462-6712