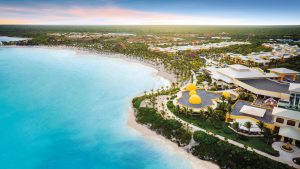 Join our March Break group to the stunning Barcelo Maya Colonial and save over $1000 per family
Saturday March 12 – 19  Air Transat direct flight Halifax to Cancun
March 12 Air Transat flight 688 flight times 17:25 – 21:55
March 19 Air Transat flight 689 flight times 22:10 – 04:45
Final payment is due Jan 26 2022
Superior Room – Prestige Class
Adults – $1899 with all taxes
Kids ages 2 – 12 – $1399 with all taxes
These 409 ft² rooms stand out for their brightness and wonderful views of the tropical gardens that you can admire from the large windows of the balcony or terrace.
They are decorated with practical furniture with color details that add warmth to the ambiance. They also offer complimentary amenities to guarantee a fantastic stay.
Jr Suite Oceanfront – Premium Level Prestige Class
Adults – $2199 with all taxes
Kids ages 2 – 12 – $1499 with all taxes
With a wide 53 m², These comfortable and bright Junior Suites offer an excellent and spacious fully equipped space. They feature two double beds or one king-size bed, perfect for couples or families with kids. Additionally, magnificent views of the tropical gardens can be enjoyed from a magnificent terrace.
This accommodation comes with the exclusive benefits of Premium Level, which include welcome amenities such as a bottle of sparkling wine and petit fours.
The essence of Mexico in a vacation hotel with luxury services and excellent facilities. What more can you ask for?
Barceló Maya Colonial Hotel***** enjoys a privileged location next to one of the most stunning beaches in the Caribbean, a unique enclave in Riviera Maya which extends approximately 1.2 miles and is perfect for taking a break from your daily routine.
Not only does the hotel feature excellent Superior and Family rooms, but it also features Premium Level Junior Suites and Suites (Premium Level Ocean Front Junior Suite and Premium Level Ocean Front Suite), designed to provide an unbeatable stay with the exclusive benefits provided by this exclusive program.
The hotel also features an incredible U-Spa with an original U-Kids Spa.
The All-Inclusive program offers snacks and drinks 24 hours a day, as well as access to the hotel's 4 restaurants, including 2 specialty restaurants, a buffet restaurant, and a snack-grill restaurant, as well as 3 bars.
The excellent All-Inclusive program also allows you to enjoy the sports facilities, swimming pools, and access to the many bars and restaurants in the resort's 4 hotels. The vibrant nightlife at the hotel offers live shows in the theater and nightclub.
Barceló Maya Grand Resort, stay in one hotel and enjoy 4!
Those guests staying at Barceló Maya Colonial can enjoy the entire complex of indoor and outdoor communal areas found at Barceló Maya Beach, Barceló Maya Caribe, and Barceló Maya Tropical, all of which belong to the Barceló Maya Grand Resort.
For those guests looking for superior service with an extra touch of luxury and exclusivity, our Premium Level service is the perfect choice for an unforgettable vacation in the Riviera Maya. In addition, if you stay in the Premium Level Oceanfront Suite you can enjoy the facilities and services of Barceló Maya Palace.
Why choose the Barceló Maya Colonial
Activities and water facilities for the children
Wide range of culinary options
Stay in 1 hotel and enjoy 4!