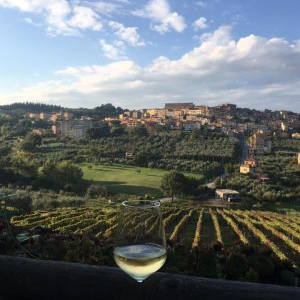 Custom small-group Adventure by Niche Travel Group
Live like a local in Tuscany
Experience this breathtaking region with our small-group custom trip, a Taste of Tuscany and enjoy Italy without the crowds. Unpack for 6 nights in a beautiful Agriturismo villa, tucked in a quaint village in the Tuscan countryside. Enjoy home-made organic food and explore the nearby villages and local wineries. Travel with Niche Travel Group host Amanda and discover what makes this region one of the 'must-do's' of Italy.
This tour will be hosted by the Niche Travel Group Europe Specialist Amanda McMullin.
Tour dates : September 14th – 20th 2020
Tour begins in Rome in Termini station -Ends in Chianciano Terme, Tuscany
Tour Includes: Lovely 3.5 star villa accommodation in southern Tuscany
First Class train ticket to Tuscany and private transfer to the Villa
6 full breakfasts with organic local choices
6 gourmet 4-course organic local dinners
2 days of guided travel through Tuscany's stunning Val D'Orcia Valley and incredible city of Siena
Wine, olive oil and Pecorino cheese tasting at Bradi Tuscani in the picturesque village
1 full day in Montepulciano with private transfer
Half day visit to Orvietto
2 winery visits and wine tastings
Olive Oil instruction and Cooking Class
Visit to the famous Thermal Spa in Chianciano
Insider visits to local hidden gems in small-town rural Tuscany
Private transfer to train station Chiusi-Chianciano Terme at the end of tour. You can then return to Rome or venture on to Florence/Venice/Milan or the Amalfi Coast with our assistance and advice.
Non-Refundable Deposit of $500 per person required to confirm space
Final Balance due 90 days before travel
Maximum Group size is 16 Guests
Itinerary
 Day 1 Depart for Tuscany
Board your afternoon train at Rome's Termini station and relax in the first-class car. The train will arrive in Chiusi-Chianciano Terme station in about 90 minutes where a private shuttle will whisk you to our home Agriturismo La Pietriccia. Meet the owner, Stefano, whose family has owned this land for decades, and enjoy a Welcome Drink on the panoramic terrace while he tells us about his organic farm and the slow-food movement.
Four course dinner with homemade organic products at 8PM
 Day 2 Val D'Orcia
Breakfast with homemade organic products starts at 8:30- 9:30 AM
Depart the Villa at 10:00am for a lovely day of private touring with our local Italian guide.
The Val d'Orcia, or Valdorcia, is a region of Tuscany which extends from the hills south of Siena to Monte Amiata. In 2004 the entire valley was included on the list of UNESCO's World Cultural Landscapes.
First, we visit Pienza, known as the "touchstone of Renaissance urbanism" It is a picturesque 35 minute drive to this quaint village. Make sure to sample the well-known pecorino cheese for which the village is famous. Snap a cute photo on the 'love' and 'kissing' lanes for a great momento.
Next we will head to Montalcino, a hill town and commune famous for its Brunello di Montalcino wine. The town is located a short drive to the West of Pienza. Enjoy a leisurely lunch ($$), then gather to hear the history of this town with our guide. Afterwards, stroll the beautiful shops or find a terrace and sip some Brunello wine while overlooking the valley.
We will also be visiting a local winery for a tour and some wine tasting.
Dinner with local homemade products at 8 PM
 Day 3 Orvieto
Breakfast with homemade organic products starts at 8:30 – 9:30AM
Today journey to the ancient hill town of Orvieto. Visit it's stunning Gothic cathedral, the famous Well of St Patrick, or tour the amazing underground cave system that lies beneath the city.
On the return we will stop in the charming town of Chianiano Terme for a wine, olive oil and pecorino cheese tasting at the local Bradi Tuscani
Four course dinner with homemade organic products at 8 PM
Day 4 Local Living
Breakfast with homemade organic product 8:30am- 9:30am
After breakfast take a short walk around the gardens and farm with our host Stefano.
Then join our owner and host Stefano for a 11am cooking class with local organic Italian produce.
Savour your creations for a delightful lunch
Relax the afternoon away in an outdoor Thermal Spa famous since Roman times for its geothermal with therapeutic waters.
Dinner with homemade organic products at 8 PM
Day 5 Siena
Private Tour of Siena with our local guide 9:30am -5:00pm
The historic centre of Siena has been declared by UNESCO a World Heritage Site. It is one of the nation's most visited tourist attractions. Siena is famous for its cuisine, art, museums, medieval cityscape and the Palio, a horse race held twice a year. Our guide will explain all about the 17 contrades of the city and how they have shaped its unique culture for hundreds of years.
The Stunning Cathedral of Siena is not to be missed – with art by Donatello, Bernini, Michelangelo, and Pisano (to name just a few!) It will take your breath away, inside and out.
There will be plenty of free time for strolling through the winding streets, a leisurely lunch, shopping and gelato in the Piazza del Campo. Siena is about a 75 minute drive, great time to write some post cards, and catch a nap on the way home.
Four course dinner with homemade organic products at 8 PM
Day 6 Montepulciano
Breakfast with homemade organic products starts at 8:30 – 9:30AM
10:00am – 5:00pm : Private transfer to Montepulciano – It is a quick 20 minute drive away. This medieval and Renaissance hill town is a gem. Wander through the winding, narrow streets on your own or hop on the mini-trolley for a ride and tour.
Spend the afternoon at your leisure trying out various Gelatto or shopping at the fabulous shoe stores in town.
While in Montepulciano we will visit a local winery and tour their underground wine making caves unique to the winemaking of this area.After a brief tour of the caves we will sample their wines and cheeses.
Return 5 pm to the Agriturismo by private transfer
Dinner with homemade organic products at 8:00pm
 Day 7
Breakfast with homemade organic products at 8:30- 9:30 AM
Say goodbye to our hosts, and the beautiful villa, depart at 10:00 am by private transfer to train station Chiusi – Chianciano Terme. Trains to Rome or Florence or your next Italian adventure at 11 AM.