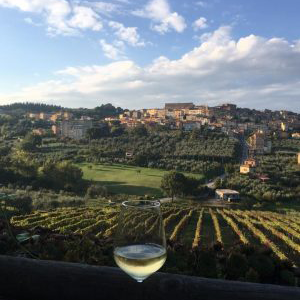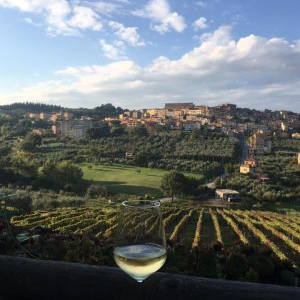 The May 13 – 16 Tour is now sold out , but we have a great option for you in Sept and Oct.
Taste of Tuscany with the Niche Travel Group 
Experience Italy without the crowds and live like a local on this 7 day  adventure.
Tour Includes:
Lovely 3.5 Star accommodations in a picturesque small town in southern Tuscany
6 full breakfasts  and 6 gourmet 4-course dinners
Meals are made with the organic, slow food movement philosophy and the chef/owner uses the most fresh and natural home grown product
2 days of guided travel through Tuscany's Val D'Orcia Valley and Siena
Olive Oil instruction and insider visits to local hidden gems in small-town rural Tuscany
1 full day touring in Montepulciano
2 local winery visits
Maximum 20 Guests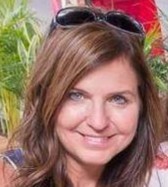 Meet our May 13 -19th Host
This tour will be hosted by our Active Holiday Specialist Valerie Eisnor.  Val is in her element hiking 20km a day, visiting  Antarctica, riding in a hot air balloon or biking along the rivers of Europe; as long as the day ends with a great glass of wine and good conversation.  We would love you to join her on this 6 night Tuscany Tour and you have the option of adding a pre or post Tuscany Tour along the Amalfi Coast
Wonders of Amalfi May 06 -13th  or   Active Amalfi May 19 – 25th
Day one:  
Meet at Roma Termani Station for 3:00pm train
Arrive in train station Chiusi-Chianciano Terme at 4:30 pm
From train station to Agriturismo with private bus
Welcome drink in a panoramic terrace, and introducing some information  about the organic farm and slow-food movement.
Dinner with homemade organic products 8:00 pm
 Day Two:  
 Breakfast with homemade organic products 8:30 am
10:00 am:  90 mins optional walk in Stefano's organic farm and olive orchard.  Walk the local hills and visit a pig farm to see the historic "cinta senese".
12:00 pm:  Visit the historic center of the village of Chianciano Terme ( 10-15 minutes/ 700-800m walk)  for a wine, olive oil and Pecorino cheese tasting with the owners of  Bradi Tuscani.
Relax by the pool for the late afternoon with a great bottle of wine that you purchased in the village or take a visit to the historic Thermal baths, which has made this town famous for hundreds of years.
Four-course dinner with homemade organic products 8:00 pm
 Day Three:  
Breakfast with homemade organic products, from 8:00 am
Private Tour through the Val D'Orcia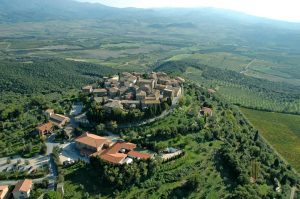 The Val d'Orcia, or Valdorcia, is a region of Tuscany, central Italy, which extends from the hills south of Siena to Monte Amiata
In 1996, UNESCO declared the town a World Heritage Site, and in 2004 the entire valley, the Val d'Orcia, was included on the list of UNESCO's World Cultural Landscapes.
Pienza  – A town and commune in the province of Sienna, in the Val D' Orcia in Tuscany  is known as the "touchstone of Renaissance urbanism" It is a picturesque 35 minute drive to this quaint village. Make sure to sample the well-known pecorino cheese for which the village is famous
Montalcino – Eat lunch in Montalcino and visit the town for 2.5 to 3 hours.  Montalcino is a hill town and comune in Tuscany, Italy. It is famous for its Brunello di Montalcino wine. The town is located to the west of Pienza, close to the Crete Senesi in Val d'Orcia. Stroll the beautiful shops or enjoy a delicious lunch with the amazing views over the valley.
Wine Tasting – Wine tasting -Return to Chianciano Terme and visit a small local winery for a delicious tasting and tour.
4-course dinner with homemade organic products 8:00 pm
Day 4 -Breakfast with homemade organic products at 8:30 AM
FREE DAY – Enjoy the pool, hike up to Chianciano Terme to visit the Etruscan museum or wander into the new town of Chianciano and visit the Thermal Spas that made this town famous.
Optional Tour $$ – Civita di Bagnoregio and Orvieto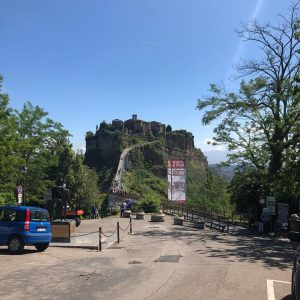 Visit the ancient Etruscan city of Civita di Bagnoregio, now known as the 'dead-city'. Climb the pedestrian walk-way up to this amazing city on a cliff. Stroll the lanes, enter the old Etruscan cave and marvel at the views all around you. Civita is an hour drive from our Villa, and there is a steep and steady climb to reach the city, but well worth it!
Afterwards, we will take a 30 minute drive to the beautiful hill town of Orvieto where you can enjoy a lovely lunch, visit its stunning Gothic cathedral, visit the famous Well of St Patrick, or tour the amazing underground cave system that lies beneath the city.
** estimated tour price $95 CADpp **
Dinner with homemade organic products at 8 PM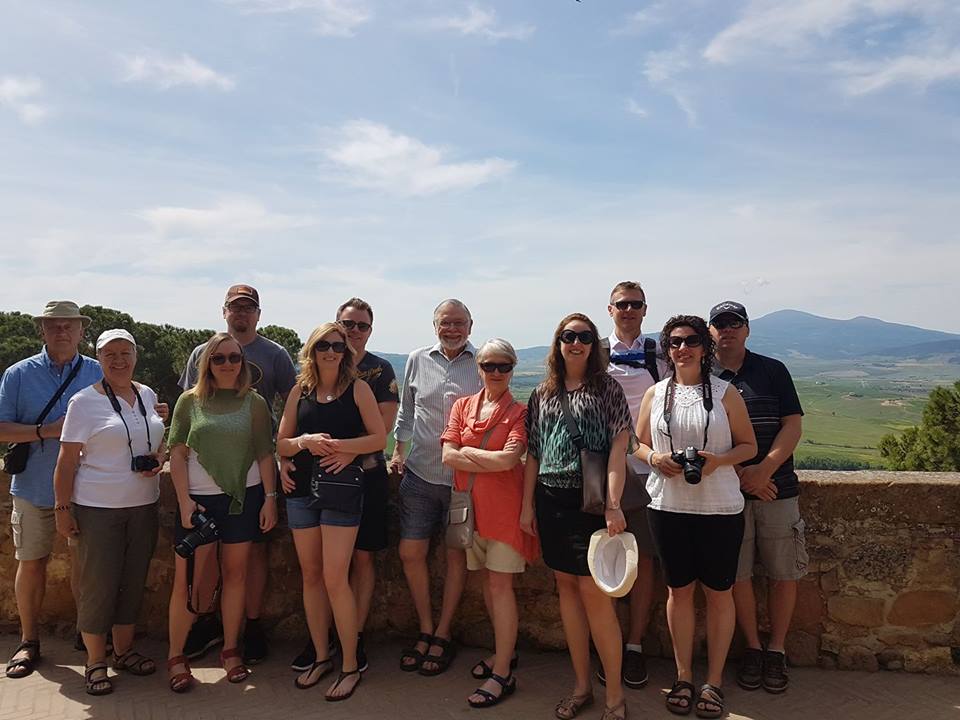 Day Five:  Montepulciano 
 Breakfast with homemade organic products 8:30am
11:00am – 5:00pm : Private minibus or taxi to  Montepulciano –  It is a quick 20 minute drive away. (Montepulciano is a medieval and Renaissance hill town and commune in the Italian province of Siena in southern Tuscany.)
Wander through the town on your own, have a fabulous lunch and meet at the famous Cantina De Ricci winery at 3:00 pm for a tour and tasting.
Cantina De Ricci
Here is a fun Rick Steves video about Cantina De Ricci
http://www.cantinadericci.it/voto-e-video/
Return 5 pm to the Agritourismo by Private minibus or taxi.
Dinner with homemade organic products 8:00pm
 Day Six:  
Breakfast with homemade organic products from 8:00 am
Private tour:  Siena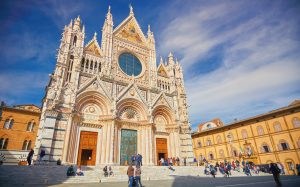 10:00am -5:00pm
The historic centre of Siena has been declared by UNESCO a World Heritage Site.[2] It is one of the nation's most visited tourist attractions, with over 163,000 international arrivals in 2008.[3] Siena is famous for its cuisine, art, museums, medieval cityscape and the Palio, a horse race held twice a year.  Our guide will explain all about the 17 contrades of the city and how they have shaped its unique culture for hundreds of years.
There will be plenty of free time for strolling through the winding streets, a leisurely lunch, visiting Piazza del Campo, and the amazing Cathedral with art by Donatello, Bernini and Michelangelo (to name just a few!). Siena is about a 75 minute drive, great time to write some post cards, and catch a nap on the way home.
When you return, 7:00 pm Stefano will do talk and olive oil tasting
Dinner with homemade organic products 8:00pm
Day Seven:  
Breakfast with homemade organic products 8:30am
Depart from the Agriturismo at 10:00 am by private transfer to train station  Chiusi – Chianciano Terme.
Trains to Rome or Florence at 11:00am
The 2018 tour was hosted by Sarah Hill and she will give you all of the options and insider tips.
Contact Sarah Hill to book and ask her all about her May 2018 trip sarah@nichetravelgroup.ca or 902 410 0305
The incredible price of $1695 all taxes per person is available on two different dates in 2019
May 13 -19 2019
Sept 30 – Oct 06 2019