Join us for seven memorable days along Italy's stunning Amalfi coast for $1995

Experience Italian living at its best! Our local guide will share all of the amazing gems this gorgeous region has to offer on our small-group Active Amalfi. Visit clifftop-towns, taste the local wine, join a cooking class, visit the island of Capri, hike along the rugged coast and enjoy the beautiful beaches.
Active Amalfi dates May 19-25, 2019
Itinerary
Day 1: May 19 – Rome-Pompeii -Furore
You will be picked up in central Rome to begin your journey. We stop along the way to visit Pompeii. Tour the town buried by the sudden eruption of Mt Vesuvius in 79 A.D and view the remains which provide a glimpse of what life was like in the 1st Century After the tour, we will continue to the coast and join a local cooking class and enjoy our first dinner together.
Meals Included: Dinner
Activity: Pompeii guided sight visit 2 hours, cooking class
Guide: Local Guide
Day 2: May 20– San Lazzaro- Valle delle Ferriere Natural Reserve – Pontone – Scala-Ravello- Amalfi
Today we will journey on our longest and most beautiful walk of the Amalfi coast. Beginning in Agerola San Lazzaro, we will walk through the farms and chestnut trees, visiting the ancient cities of Pontone, Scala, Ravello and Amalfi. We will visit the magnificent San't Andrea Duomo, walk the narrow streets full of history and art.
Meals Included: Breakfast and Lunch
Activity: Visit Ravello -24 KM hike
Guide: Local Guide
Day 3: May 21 – Visit Praiano and walk to Marina di Praia beach -Wine Tasting
Set off from San Lazzaro to the unique Fiord of Furore, walk the through gorgeous countryside, after crossing a river, stop in an old monastery in Furore before the walk down to Praiano and the beach of Marina di Praia, with free time to enjoy the beach. Sample the local restaurants and art galleries, or enjoy the sun, swim or kayak near the stunning cliffs of the coast. Return to the hotel by private transfer.
Meals Included: Breakfast and Dinner
Activity: Visit Praiano- 10 KM hike -visit Furore -Praiano Marina di Praia
Guide: Local Guide
Day 4: May 22- Walk of the Gods -Positano -Limoncello tasting
Visit the cliffside village of Positano, stroll the steep, narrow streets and fashionable shops. Begin the famous Walk of the Gods along the coast with sensational views of lemon groves, gorges, deep valleys, woodlands, abandoned farmhouses and of course the ocean. Stop in the coastal town of Montepertuso along the way. Enjoy an amazing sunset meal, along the hike, in a mountain-shelter with Salvatore and his family. They bring all the food in with their horse, and will have a spread of delicious locally-grown food, wine, cheese and bread. Hike the last 30 minutes and relax on the private transfer back to your hotel.
Meals Included: Breakfast and Dinner
Activity: Hike 12 KM, private transfer to hotel after hike
Guide: Local Guide
Day 5: May 23- Capri Visit
The island of Capri is one of the most picturesque and visited locations in Campania. Full of natural beauty and history and famous since ancient times, it is where Odysseus narrowly escaped the Sirens in The Odyssey. We will visit Capri square, Tragara hotel with its stunning view of the Faraglioni rocks, and Anacapri
Optional: Blue Grotto trip
Meals Included: Breakfast and Dinner
Activity: Hike 10 KM, Public boat to and from Capri
Guide: Local Guide
Day 6: May 24- Free Day
Optional visit to the ancient ruins of Paestum, or a Mozzarella Buffala farm, visit the beach, take one more hike or relax and enjoy the town and our hotel. Pick up your last minute local specialties and your favorite wine to take home.
Meals included: Breakfast and Dinner
Day 7: May 24 – Transfer to Rome
Say goodbye to this beautiful region and head for your private transfer back to central Rome or to the local train station for your next adventure.
Active Amalfi by Niche Travel Group
May 19-25, 2019 Tour begins and ends in Rome, Italy
Price per person is $1995 CAD
Single Supplement is $400
Maximum tour size is 14 guests + tour guide
Deposit is $250 non-Refundable
Balance due by February 10, 2019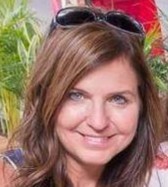 Meet our  Host Valerie Eisnor
This tour will be hosted by our Active Holiday Specialist Valerie Eisnor.  Val is in her element hiking 20km a day, visiting Antarctica, riding in a hot air balloon or biking along the rivers of Europe; as long as the day ends with a great glass of wine and good conversation.  We would love you to join her on this Active  Amalfi Tour and  you have the option of adding Tuscany Tour that begins on May 13th ending on May 19th.