Treasures of Burgundy and Provence with Amadeus River Cruises – April 30 – May 07 2020
Enjoy this uniquely beautiful cruise along the French rivers of Rhone and Saone.
On this 8-day river cruise you will experience picturesque villages, world famous wine producing regions, unforgettable landscapes in the regions of Provence and Burgundy, and be immersed in the impressive and historic cities, monuments and culture. Your cruise will make a round trip route from Lyon to Macon, where some of the world's most expensive wines are made. Enjoy Chalon sur Saone and Tournus and see the half-timbered houses and picturesque countryside landscapes. You will sail to Avignon, where its legacy can be seen in the massive Pope's Palace. View the beauty of Arles, the town that inspired many of Van Gogh's paintings. You can experience the magnificent Ardeche Gorge, a natural wonder in this region of southern France that his been carved out of limestone overtime. Return to Lyon, the third largest city in France where you will disembark the cruise.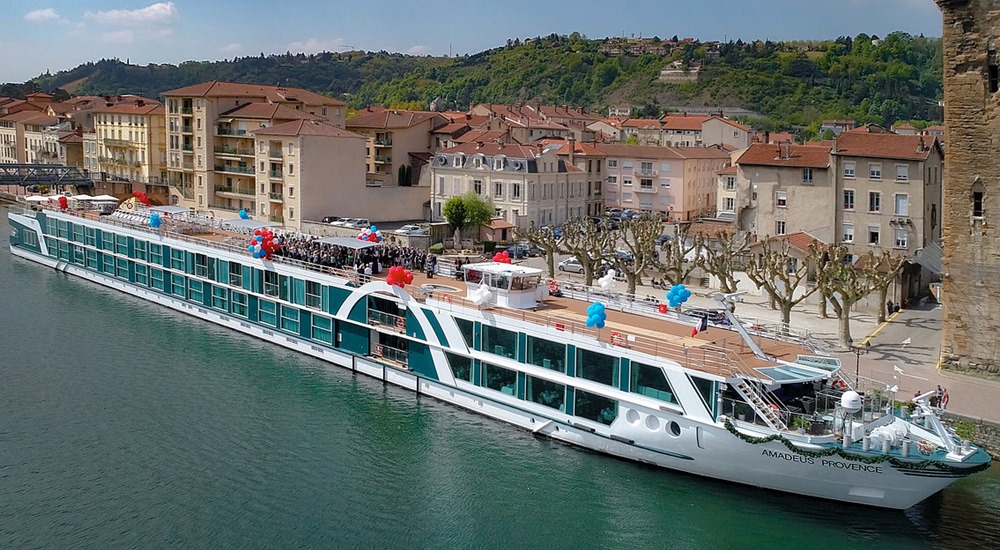 DAY 1 : APRIL 30     LYON (ARRIVAL & EMBARKATION)                  
On arrival transfer to port on own. Check in begins at 4:00pm. This afternoon you embark the vessel and get settled into your cabin. This evening, enjoy a Welcome Cocktail, followed by a specially prepared Welcome Dinner.  Overnight onboard.
DAY 2  :  MAY 01   MACON                                       
After breakfast today you will have the day in Macon, located in southern Burgundy. This is a wine producing region that makes some of the world's most expensive wines. You can spend the morning exploring the city, and perhaps you will join the optional shore excursions to the wine museum that is dedicated to the history and production of Burgundy wines. Another optional excursion is a trip to the Cluny Abbey which is dedicated to St. Peter and was once home to over 10,000 monks. This afternoon is perfect for you to experience medieval Europe. Overnight onboard.
DAY 3   :  MAY 02  CHALON SUR SAONE – TOURNUS                       
Today you can continue to explore the famous wine region with a half day stop in Chalon sur Saone. Here you can find half-timbered houses that overlook the town square, local art galleries, specialty shops, and even a museum dedicated to photography. In the countryside you can find famous vineyards such as Pommard and Puligny, a true delight to wine lovers. After returning to the ship you will sail towards Tournus and enjoy a brief stop to soak in the scenic landscapes surrounded by medieval towns of Brancion and Cormatin which you can visit and tour if you choose to join the optional excursion. Overnight onboard.
DAY 4   :    MAY 03 LYON                                       
This morning you will wake up in Lyon, the third largest city in France that is at the confluence of the Rhone and Saone rivers. It is also a UNESCO World Heritage city that is well known for its cuisine and historical and architectura landmarks such as the Basilica of Notre-Dame de Fourviere and Old Lyon. Enjoy the rest of the afternoon onboard as the vessel sails through the picturesque countryside. Overnight onboard.
DAY 5 :  MAY 04   AVIGNON                                   
Today you will have a full day in Avignon, a Provencal city that is home to the Papal Palace which was once the seat of Western Christianity in the 14th century. Perhaps you will choose to further explore this landmark which was home to six papal conclaves before it returned to Rome on an optional excursion. This area is also known for the Pont du Gard which is a three-level aqueduct that was constructed over 2000 years ago by the romans, and even today it is known as an ancient architectural masterpiece. Overnight onboard.
DAY 6   :  MAY 05   AVIGNON-ARLES                             
Today you will be able to spend the day in Arles, a city on the Rhone River that is famed for inspiring the paintings of Van Gogh. A you walk through the town; many settings may seem familiar as some of Van Gogh's best-known pieces reflect the same beauty that you will experience and be inspired by. An optional excursion today can take you outside of town, to the Camargue Nature Park. This is a park that spans over 86,000 hectares and is known for its unique flora and fauna, including semi-wild bulls and white Camargue horses. Overnight on board.
DAY 7  : MAY 06     CHATEAUNEUF DU RHONE – LE POUZIN 
This morning you have an opportunity to view the Ardeche Gorge, a natural wonder of the area where the gorges are a canyon that has been hollowed out of the limestone plateau- a truly remarkable site. The vessel will remain for a short time in Le Pouzin and you will have the chance to explore the Ardeche Gorge on an optional excursion. As you return to the vessel this evening you will enjoy a Gala Dinner with the Captain. Overnight on board.
DAY 8  : MAY 07   LYON (DISEMBARKATION & DEPARTURE) Enjoy breakfast on board before you disembark this morning. Transfer to the airport in time for your departure flight back home.
CRUISE TOUR DATES & PRICE: April 30 – May 07th
Rates are in CAD per person
Lower Deck : Hayden
C1 Category $1899 per person
Middle Deck : Strauss
B1 Category $2699 per person
Upper Deck : Mozart
A1 Category $3299 per person
Upper Deck M: Mozart 
Mozart Suite $3999
TOUR PACKAGE INCLUDES: 
Seven night's accommodation at listed river cruise – Free-flowing red & white wines with every lunch and dinner onboard – Beer and soft drinks with every lunch and dinner onboard – Daily buffet breakfast while on the cruise – 06 lunches on board – 07 dinners on board – Cocktail reception – Welcome Dinner – Captain's Gala Dinner – 24-hour coffee and tea station – Bottled water in every stateroom – Experienced English-speaking cruise director – Onboard entertainment – Complimentary Wi-Fi onboard – Complimentary use of onboard bicycles – Complimentary state-of-the-art audio headsets for optional excursions – All local taxes –
TOUR PACKAGE DOES NOT INCLUDE:
-Port Charges of $185
-International flights from Halifax to Lyon
-Tips and gratuities
– Optional Excursions
– Travel insurance –
– Items not mentioned as included
Optional Excursions at an additional cost :
Full Excursion information available
Excursion to Macon including Wine Museum tour
Guided tour of Cluny Abbey
Burgundy excursion to Beaune with wine tasting
Excursion to Brancion and Cormatin
City tour of Lyon
Avignon walking tour with Papal Palace
Excursion to the Pont du Gard and Uzes
Arles walking tour
Excursion to the Camargue Nature Park
Excursion to the Ardeche Gorge