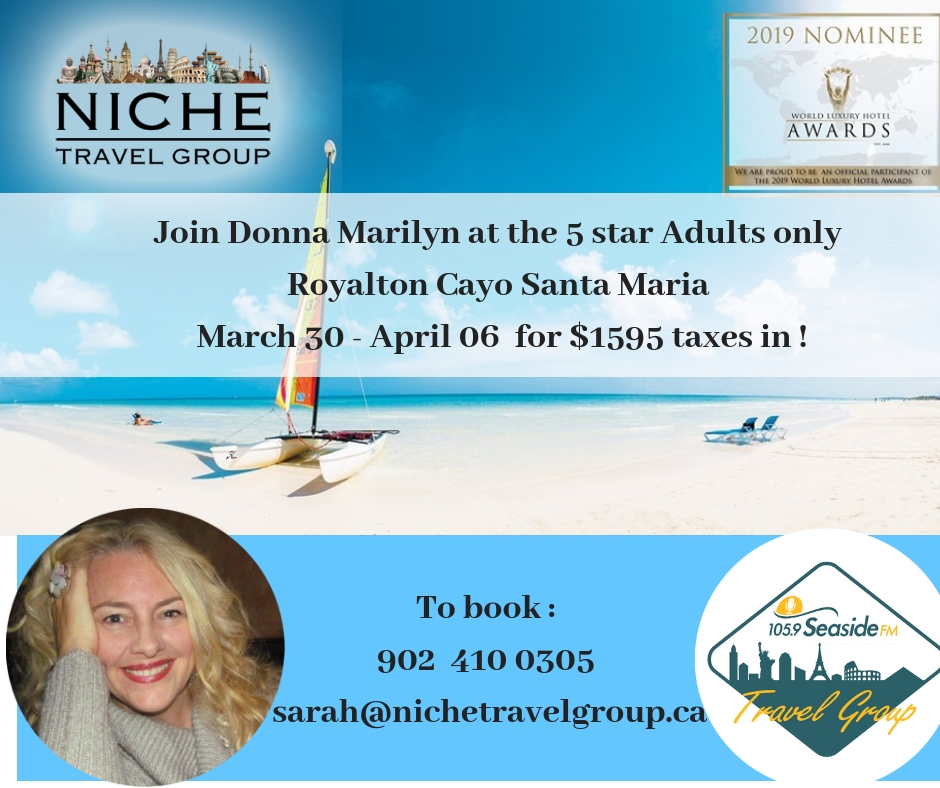 Halifax direct departure Monday March 30 – April 06 2020
$1595 all taxes included.
Sunwing flight times
Monday to Monday
WG 340 Depart Halifax 30 March 06:00 AM Arrive Santa Clara 09:30 AM
WG 341  Depart Santa Clara 06 Feb 10:35 AM Arrive Halifax 15:35 PM
Elite Seats available for $120 roundtrip
Have a look at this amazing 5 star resort 
https://www.royaltonresorts.com/royalton-cayo-santa-maria

Boasting one of the world's best beaches and only 122 rooms!
Join a small and intimate group for a holiday in paradise!

Combining the charming culture of Cuba with a luxury product, exceptional service, and incredible attention to detail, the Royalton Cayo Santa Maria promises the adults-only vacation of your dreams. Our picturesque facilities, warm staff, exhilarating culture and world-class cuisine are the perfect components to create an unforgettable All-In Luxury® vacation. Built for discerning travelers, this modern resort features Diamond Club™ for a higher level of service and tranquil pool, beach and dining areas for guests over the age of 18 only.
Non Refundable Deposits are $250 CAD per person
Final payment due by Jan 15th