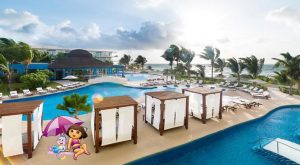 This group space is now sold out  !
We have found the ultimate in luxury for your family this March Break.
A brand new resort in Punta Cana featuring an amazing water park for the kids, 5 star dining, and rooms for families with 3 or more kids!
Nickelodeon Punta Cana from Moncton
Have a peek at the website
Direct flights with Transat Holidays, March 10-17, 2017
Depart Moncton Transat flight 668 06:00 – 10:35
Depart Punta Cana Transat flight 669 10:35 – 16:00
Prices are based on double occupancy and include all taxes !"Suite Pad" Adult price $2442 with all taxes
Child price $552 with all taxes
Options available from Halifax and all other gateways.
Non Refundable Deposit is $250 per person
Final payment is only due by Jan 15th
Calling all foodies –
When Karisma does the all-inclusive concept, it becomes the Karisma Gourmet Inclusive® Experience. That's because this unique and unrivaled level of "everything's included" goes beyond delicious food.
At Nickelodeon™ Hotels & Resorts Punta Cana, it's about redefining your family's luxury resort vacation with complimentary gourmet cuisine, premium drinks, personalized service and unforgettable activities hand-selected for our guests.