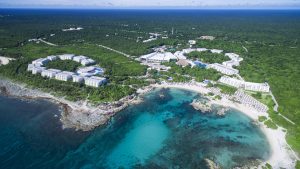 The Grand Sirenis Mayan Beach is the perfect family option this March Break. Situated in the Riviera May its architecture, inspired by the Mayan culture , blends nature with open spaces. All our guests enjoy spacious, modern Junior Suites offering comfort and incomparable tranquility.
Adult price is $1959 with all taxes  – Online rate is $2213 !
1st child price is $889 taxes included.
2nd child price is $1059 all taxes included.
Family of four with two children under the age of 12 would pay $5866 !
Rooms are the upgraded Le Mirage Jr Suites.
Non Refundable deposit $250 per person –Final payment is due Jan 21st
Direct flight with Air Transat
Sunday March 12 Flight times 0900 – 1215
Sunday March 19 Flight times 1335 – 2005
The large resort lies on a beautiful stretch of virgin beach extending some two miles along the coast, and boasts an authentic and perfectly conserved Mayan ruin within a heart shaped inlet; one of the most beautiful spots for snorkel lovers. This is a tropical leisure resort with 3 spacious pools, separate pools for children, a lazy river, open-air lounges, 2 main buffet restaurants, 8 thematic restaurants, 11 bars, 2 pool bars, health bar, coffee shop, disco and even a theatre for the evening shows.
Guests who are looking for total relaxation will be able to enjoy the wide range of treatments and special rituals to soothe body and spirit in the award winning SPA Grand Sirenis, which is one of the finest and well known on the Riviera Maya, with excellent equipment for training and cardio fitness.
Have a peek at the website
https://www.sirenishotels.com/en/riviera-maya-hotels/grand-sirenis-mayan-beach-hotel-spa/
Book with your Niche Travel Group agent or call to secure your spot today 902 407 4567